Welcome to the Avalon Online Pre-Cana Course
A Catholic marriage preparation course for busy couples.
Our course helps couples gain a deeper love for one another and a greater sense of commitment.

You will learn to understand one another better, communicate more effectively, avoid unnecessary conflict, and create a shared vision for the future.
Over 12,500 couples have taken our precana course to date and here is what some of our customers have said CLICK HERE
Why choose an Online Course?
Always available
Our course is ready when you are. If you live far away from a major city, finding a course that suits may mean extra expenses, such as a hotel or transport. Couples who work in different countries face even greater difficulties scheduling a time and place to do their Pre-Cana course. Because our course is online, you can do it via Skype or video messaging if needs be. Best of all, you can come back to the course at any point over a 12 month period if you want to do a refresher.
Busy schedules
Are you juggling a busy schedule? Between work, study, wedding planning and a variety of other commitments, many couples simply can't find the time to attend a classroom-style Pre-Cana course.
Our online course takes 8 hours to complete, but it works around your schedule. You can do it all at once, or break it up into sections.
Privacy
Our Pre-Cana course asks you to examine private details of your relationship, including family dynamics, finances and expectations regarding sexual intimacy.
Many of us find it difficult to be honest when surrounded by strangers.
By doing the course in private, you can discuss these issues more openly.
Benefits of the Pre Cana Course:
It works. You will develop a deeper sense of love and commitment to each other, and how to avoid unnecessary conflict.
It is flexible and convenient. Our course works around your schedule and you can take as much time as you need to complete each section.
Revisit the course for up to a year. If you want a refresher course on some of the issues examined, you can do so easily.
It is private. Discuss your relationship openly without the constraint of other people listening in.
It's ready when you are. Do the course whenever and wherever is best for you.
Getting Your Pre Marriage Certificate
We will email your Certificate within 48 hours and we GUARANTEE that your Priest will accept our Pre Cana Certificate.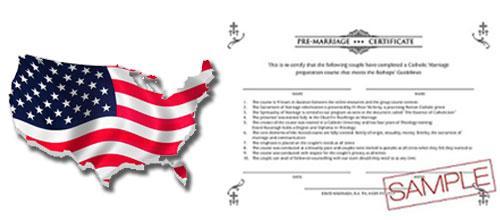 Our Certificate is accepted in the USA. We have never had a certificate refused in America, ever.
We have three different options for You:
The On-line Catholic Pre Marriage Course:
We give you two specially designed Work-books, 6 hours of fascinating interviews and informative videos, an E-book on religion and faith. This Pre Cana Course also comes with online relationship support for 12 months. Our course is unlike any other course on offer and if you are not entirely satisfied with our precana course, we are happy to give you your money back. So what have you got to lose?
The On-line Course + the recording of the Avalon Group Courses
We give you two specially designed Work-books, 6 hours of fascinating interviews and informative videos, an E-book on religion and faith. But if you want to really experience the fun of Our Live Course then this option is for you. This Pre Cana Course also comes with online relationship support for 12 months.
On-line Catholic Pre Marriage Course + DVD Version
OUR MOST POPULAR COURSE - Now you and your partner can get closer as you watch our exceptional Pre Cana Courses in DVD format. The only precana program delivered right to your door with two workbooks and pens to give you the very Best Marriage Prep Course available.

This course also comes with all our bonus footage including the LIVE FOOTAGE of the Avalon course, our great PDFS, MP3'S and bonus interviews with over 20 consultants. Also Online relationship support for 12 months and Lifetime access to our website.
Our course is Accepted Worldwide
Over 12,000 couples have completed their Pre-Cana course with Avalon.
Our course is trusted by Catholic parishes and dioceses around the world.
If your priest has any questions about the program, please let us know. We regularly speak with priests on your behalf, letting them know how the program works and how they fit into the process. .
Our Certificate is accepted in:
Alabama  Hawaii  Massachusetts  New Mexico  South Dakota    Alaska  Idaho  Michigan  New York  Tennessee    Arizona  Illinois  Minnesota  North Carolina  Texas    Arkansas  Indiana  Mississippi  North Dakota  Utah    California  Iowa  Missouri  Ohio  Vermont    Colorado  Kansas  Montana  Oklahoma  Virginia    Connecticut  Kentucky  Nebraska  Oregon  Washington    Delaware  Louisiana  Nevada  Pennsylvania  West Virginia    Florida  Maine  New Hampshire  Rhode Island  Wisconsin    Georgia  Maryland  New Jersey  South Carolina  Wyoming

The Online Marriage Preparation Course that we offer you has inputs from a range of experts covering everything from Fertility to Nutrition, The Marriage Ceremony itself to the Church's Teachings on Marriage.
Our Precana Online Classes also include a wide range of MP3's and E-books to supplement our great Video resources.
The workbooks you receive as part of this Marriage Class online have been carefully designed to give you the best opportunity to discuss the most important aspects of marriage.
We will provide you with online support throughout the Pre Marriage Program.

This support is available to you for 12 months after you purchase the program.
If you want a Pre Marriage Preparation Course Online that is simple yet thorough, but above all intimate, then why not complete it in the comfort of your own home?

Our On line Pre Marriage Course promises to give you and your partner the space and privacy you need to really discuss the issues and challenges that may arise in your marriage.

Our Marriage classes are completed online at your own pace and this format is an approved form of Catholic Marriage Preparation. What are you waiting for?
Overall we learned so much and are so excited to get married in the catholic church and one day, when the time is right, start a family in the church where I was raised. Thank you again for this class, I hope you know how much this means to us. Our journey of learning has just begun! Read Full here >>
In conclusion we found this program to be very reassuring. I feel we are on the same page about our future,and we can both assess what we bring to the marriage and work off each others strengths, as proved in the stranded on an island exercise. Read Full here >>
It helped us with conflict - resolution and communication. Which I think will carry us through our lives and is something we will always work on, but what i loved was how some of the questions were positioned and it helped us be able to answer questions and communicate in a neutral environment, while also learning what works and what doesn't. Read Full here >>
It was particularly interesting to learn what "every day things" are important to us, ie domestic chores and sharing the workload at home. Read Full here >>
LIMITED TIME BONUS ( $120 Value )
Online Mindfulness Course
Mindfulness is a simple but effective form of meditation.
It will help you to refocus, manage stress and gain clarity.

Do You Have Any Questions For Us? Click on Chat below to open a conversation with one of our customer care team.

Frequently Asked Questions: | PreCanaCourses.com
How do we do the course online?
Complete pages One to Four of your workbook first.
Then watch the Avalon Pre Cana Course, Episodes One, Two and Three and follow the instructions in the video.
Now watch the other video interviews.
Then read the E- Books provided with the program.
Complete the short quiz online where it says Certificate Quiz.
What is the Religious and Spiritual section of the course like?
What if couples need more support or advice during the program.
How long do the Certificates last? If we complete our course over a year before we get married is that a problem?